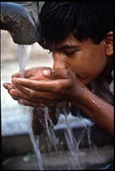 Nearly 1 billion people in the world do not have access to potable water and over 2.5 billion people lack proper sanitation. Clean water shortages and contaminated water sources are two leading causes of illness and death worldwide due to waterborne diseases such as diarrhea, cholera, typhoid and parasite infections.
Water for Humans
is a nonprofit social venture enterprise working to bring reliable sanitation and clean drinking water to under served communities worldwide.
Water for Humans
accomplishes this through its collaboration with local communities, non-governmental organizations (NGOs), social entrepreneurs, universities, and governments. Through these partnerships,
Water for Humans
ensures that people in need have access to clean drinking water and adequate sanitation. Our clean water solutions also stimulate local economies and protect local water assets.